Shuffleboard Courts
Enhance your backyard with a VersaCourt Shuffleboard Court! Because of their beauty, low maintenance and affordable cost, these courts are fueling a rapid growth in popularity of this fun game that is perfect for all ages. They are available in custom sizes and come with a 15-year warranty to ensure lasting memories for years to come.
---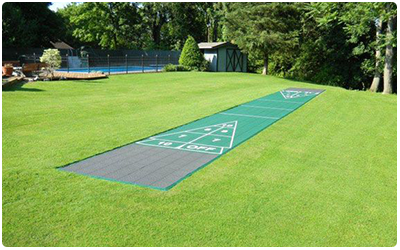 Complete Design & Installation
Grass & More Outdoor Services can handle all elements of the design and installation process. You can choose from 19 standard court sizes in a wide variety of color combinations and we can even personalize your court with custom logos. Once the design is complete, our installation team can excavate the land, pour the base and assemble the court tile. We also offer a wide variety of accessories including cues, discs, scoreboards and wax.
Key Features
Perfect glide surface for disc
Low maintenance - clean with hose or leaf blower
Can be installed on almost any flat surface
Multi-functional – can be integrated into a multi-game court
Portable - easy to assemble and disassemble
Strong enough to support weight of vehicles (can be placed on driveway)
Portability
VersaCourt shuffleboard courts can be installed on nearly any flat surface in about 30-45 minutes. For those with flat driveways and extra storage space, it can be ideal game to set up for parties and other gatherings.
---
Photo Gallery