Irrigation Design & Installation

Usually when people think of "up-keep" for their yard, the chore they dread the most is making sure the plants and landscape is hydrated properly. Aka watering plants. This can not only be time consuming, but can be hard to accurately regulate how much water to use on such a variety of different plant life.
Grass and More Outdoor Services, Inc. are trained professionals when it comes to irrigation. We will create an efficient watering system that will take care of your grass, trees, shrubs and flowerbeds. We insure that all of your plants are getting the optimal amount of water, at all the right times of the day. Just imagine the convenience of a timed watering system that will give your yard all the moisture it needs to thrive and impress.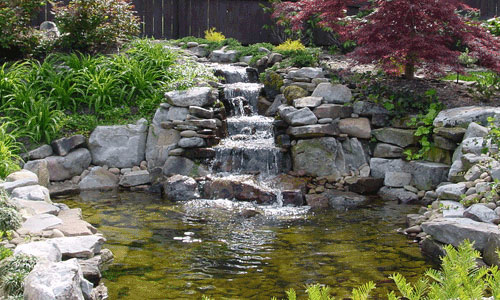 Water Features
We also design & install beautiful water features to turn any yard into an oasis. These features can range from fish ponds and streams, to fountains and even waterfalls. A well-designed water feature can add a whole new aspect to your yard, including a relaxing background noise.
A professionally installed sprinkler system does more than just save you the hassle of watering your yard or garden manually. It can also save you money on your water bills and add value to your home or business. At Grass & More Outdoor Services Inc. in Chattanooga, TN, we specialize in irrigation systems, and we're dedicated to creating long-term relationships with our clients through hard work and affordable service.
Options from Grass and More Outdoor
Whether you're looking for a basic irrigation system or a more complex network of sprinklers, Grass & More Outdoor Services Inc. has an option for you. We offer a wide array of sprinkler systems, including:
Automatic systems
Commercial sprinkler systems
Residential sprinkler systems
So whether you need an irrigation system for your small home garden or a large golf course, we have the training and expertise to install a solution that works for you. For more information or to set up an estimate, call Grass & More Outdoor Services Inc. today.