Outdoor Kitchens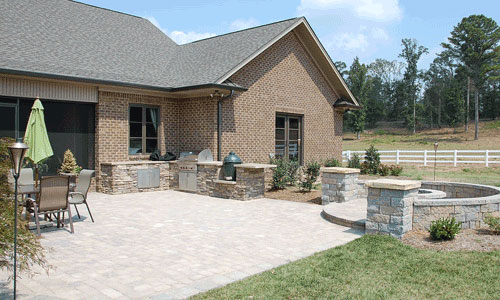 Outdoor kitchens are quickly becoming one of the most popular backyard amenities. Installing an outdoor kitchen allows our customers to take advantage of good weather, eat good food and spend more quality time with friends and family.
At Grass & More Outdoor Services, we are the leading designer and installer of outdoor kitchens in the Greater Chattanooga, TN and Dalton, GA Metro areas. We have helped hundreds of homeowners upgrade their backyard kitchen setup from a lonely grill into a fully-functional outdoor kitchen.
Everything You Need in Your Backyard
Imagine having all of the appliances and tools you need right in your very own outdoor setting. With an outdoor kitchen from Grass & More Outdoor Services, you'll be able to cook, fry, and sauté your way to a gourmet meal, all the while breathing fresh air and taking in your beautiful landscape. Best of all, by adding an outdoor kitchen, you'll be improving your home and increasing its value, and it's a great way to add some extra fun to those times when you want to relax with your family and friends without being stuck inside.
Give us a call today to learn more about your options or to schedule an estimate.