Artificial Turf Sports Surfacing

The right surface can make all the difference when it comes to your favorite sports. No matter what your sport, XGrass will give you the edge you need to perform, year after year. With Grass & More Services, you'll get everything you need, before, during and after installation, to keep playing for years to come.
When it comes to sports turf, one size (or one type of artificial grass) does not fit all. We will work with you to match turf to your specific application, install location, local climate and other factors. XGrass's patented Heat Block technology keeps players cooler, too – up to 17.5˚F cooler than other kinds of turf.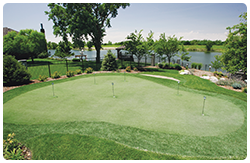 Golf Greens
The most popular home use for our sports turf is backyard putting greens and Tour Greens has established itself as a leader in the field of designing and installing tour-quality greens for practicing both putting and one's short game.
Learn More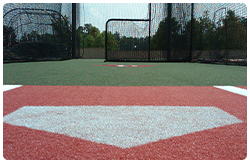 Batting Cage Turf
Transform your backyard into the ultimate practice facility. We'll help you select the style of artificial turf for your batting cage that will mesh well with your landscaping and your training goals.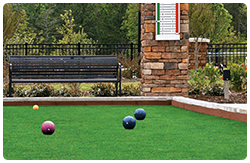 Turf Bocce Courts
Looking for an activity that the whole family can enjoy in the backyard? Bocce is a game that can be played by people of all ages and skill levels. Grass & More Outdoor Services can build sand-infilled and non-infilled synthetic turf bocce courts with or without a VersaCourt tile subsurface. These courts feature years of low maintenance use, great playability and attractive appearance.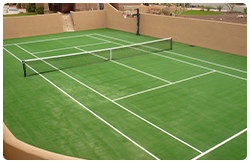 Synthetic Grass Tennis Courts
Ever dreamed of playing tennis on Centre Court at Wimbledon? With XGrass tennis turf, you can have the next best thing without leaving the comfort of your backyard. XGrass courts feature years of low maintenance use, great playability and the manicured look of a natural grass tennis courts.