Multi-Sport Game Court Design & Installation
Designing your dream backyard can be very challenging. The size of your space, layout of the land, local zoning regulations and a host of other issues need to be considered. At Grass & More Outdoor Services, we have the knowledge, experience and product to help deliver your dream.
---
Designing Your Dream Court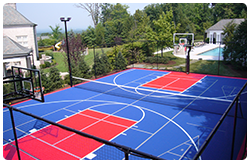 Sizes
While we have numerous standard court kits for basketball, tennis and shuffleboard, we can easily create custom-sized courts to fit almost any yard. All game/activity lines are painted onto the courts after the size specifications have been determined, so there is tremendous flexibility on where they are placed.
Color Selection
With 17 color options, we will design your court to fit your preferences and can even customize it with your favorite logo!
Multi-Sport Game Courts
The best way to get the most out of your new court is to utilize it for more than one sport. If you have the room for a larger court, it is very easy to outfit it with additional lines and accessories so that you can play many sports or games. Standard line options include 4-square, badminton, hopscotch, basketball, tennis, pickleball, shuffleboard, volleyball and futsal.
---
Turnkey Installation By Our Expert Team
From installing the proper base to adding court lights, fencing and nets, Grass & More Outdoor Services will install everything you need to create your dream court.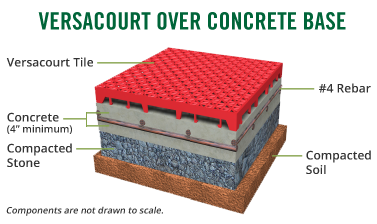 Bases
Installation begins with a durable base. Our team can handle excavation of your land and install the asphalt or concrete that will ensure years of stability, endurance and optimal performance.
Accessories
Installation doesn't end with your court. Grass & More Outdoor Services can supply and install a wide variety of accessories including:
In-ground and wall-mount basketball goal systems
Lighting
Multi-game net systems
Rebounders
Shuffleboard accessories
Tennis nets